Description
In preschool and the early grades (K-2), students are called upon to engage in classroom discussions every day.
Sometimes children have wonderful ideas but don't feel confident enough to share them or aren't sure how to put them into words.
These sturdy stand-up cards are colorful and easy to use. Each page has sentence starters to guide conversations for four standards-based purposes:
Tell an Idea (black)
Ask a Question (green)
Build on an Idea (gray) 

Explain My Thinking (red) 
Use this guide to discuss a book you read together, a show you watched, or an activity – a nature walk, an art project, a science experiment … the sky's the limit.
The sentence starters are organized from simple to solid to sophisticated. This allows children to start where they are familiar, then build to more complex language. As your child playfully builds their language skills, they will gain confidence to share their thinking.
Dry erase 8.5-x-11 table-tent booklet. ACHV128, $12.00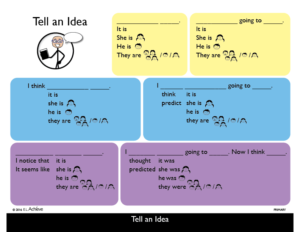 Visit our digital marketplace to order this item in eBook format. 
For assistance, contact orders@elachieve.org.