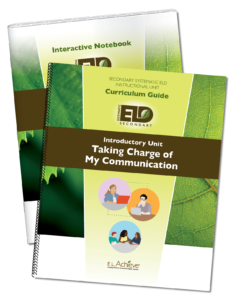 Along with the Secondary Systematic ELD Support Kit, Systematic ELD Instructional Units include virtually all materials needed to teach a series of lessons. Instruction is backward mapped from section language goals and designed to teach high-leverage language that students need to develop English language proficiency. Ongoing and unit assessments are included, along with an Interactive Notebook and animated slides to support instruction.
The goal of the Taking Charge of My Communication unit is to make a strong case for ELD as a time to practice English while building students' self-awareness about the range of choices they currently have and the skills they need to develop for talking or writing about any subject. It sets the groundwork for their understanding that by gaining linguistic knowledge, they enhance their success in speaking, reading, and writing throughout the academic day.
In ten multi-faceted lessons, students:
Get to know their teacher and classmates and discuss ways to build a healthy learning community.
Learn about the importance of talking in learning and explore how to take ownership of their role as learners.
Learn how to advocate for themselves through both informal and formal communications to various audiences.
Set goals for growing their skills and confidence to communicate clearly.
Lesson slides can be viewed and downloaded via Google Drive by clicking on the lesson links for the appropriate proficiency level below.
---
---
Assessment
From day one of class, begin assessing students' language use to gather real-time data on where they are and what they need:
Tune in and listen while students engage with each other.
Ask them to share about their understanding of concepts.
Look over their written tasks.
We encourage you to use Learning English as a New Language: A Continuum for Grades 3–12 in the Systematic ELD Handbook, p. 2.13, to look over students' work and get a sense of their language abilities:
What aspects and skills have they internalized?
Where are they experimenting and making errors?
At this point, what's the most productive thing to teach?
Practice articulating what you see them doing and then find meaningful ways to share that information with them.
You will find that proficient students use language that ranges from simple to complex. Good ELD teaching helps them to use the language they know in intentional ways that meet the demands of different purposes. You can also reference Teaching as Assessment in the Systematic ELD Handbook, pgs. 3.20–3.21.
Electronic Ongoing Assessment Logs are also available. The linked sheet is view only. To input data, you can either "Download as" an Excel spreadsheet or "Make a copy" on your Google Drive.
Ongoing Assessment Log – Google Sheets
Electronic Class Analysis Sheets are now available (new units will be added as developed). The linked sheet is view only. To input data, you can either "Download as" an Excel spreadsheet or "Make a copy" on your Google Drive.
Unit Assessment Log EXP/INT – Google Sheets
---
All Systematic ELD Instructional Units require the tools included in the Systematic ELD Support Kit. Each teacher will need a Support Kit in order to carry out the lessons in each unit.
Here are electronic versions of cornerstone items from the Support Kit you might find helpful:
Need additional student Interactive Notebooks? Click below to order more: