E.L. Achieve's 2022 Virtual Symposium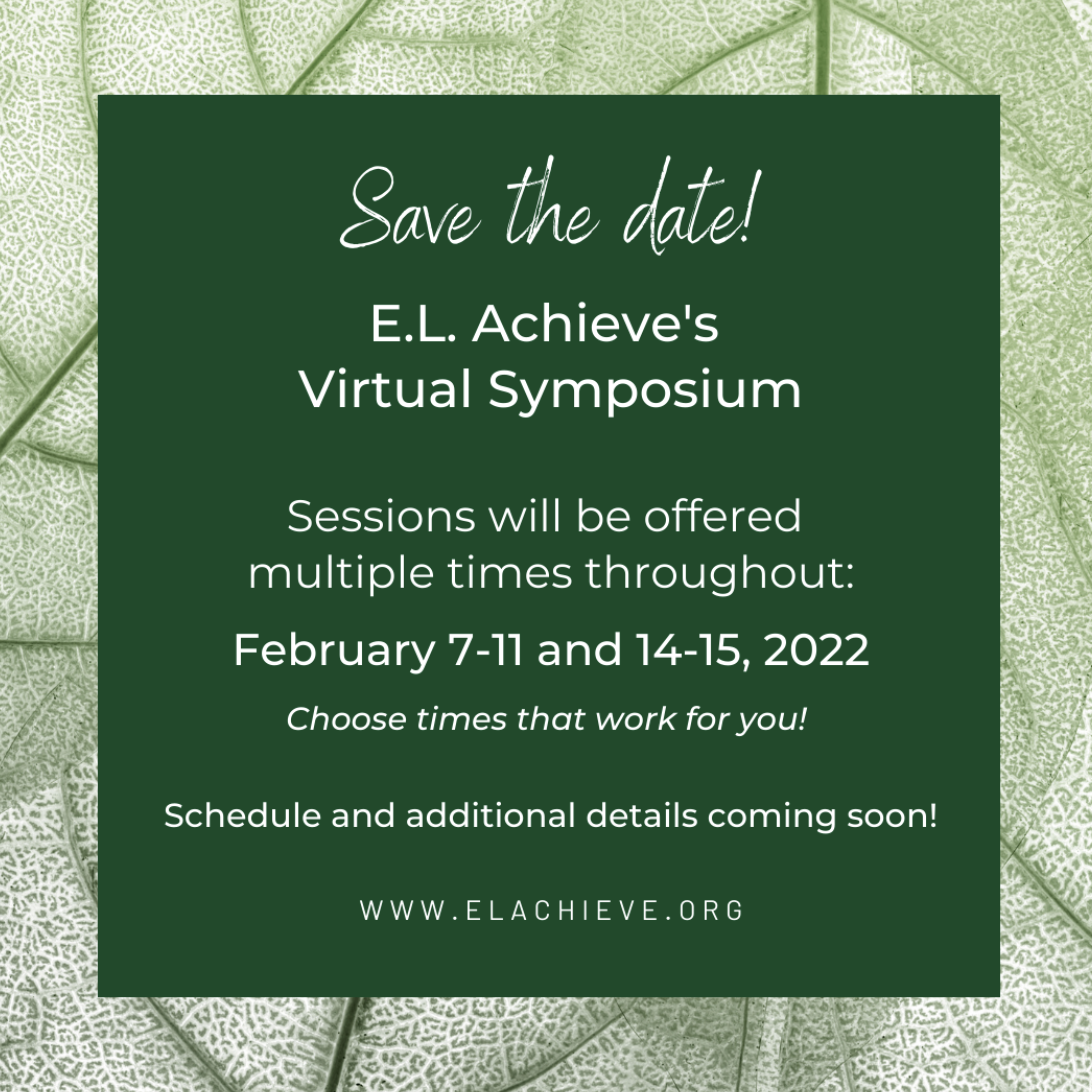 Event Date:
February 7, 2022
E.L. Achieve's 2022 Virtual Symposium is approaching!
---
The Symposium will be offered through a series of live Zoom sessions. The content will be spread over the course of seven days so participants can choose sessions of interest at convenient times.
The Symposium schedule will include initiative-specific sessions dedicated to deepening learning for classroom, site, and district-level practice, as well as elective sessions that are general and not initiative specific.
All Sessions will be conducted within the hours of 8:00 a.m. and 3:00 p.m. Pacific Time.
February 7–11 and 14–15, 2022
Participants do NOT need to attend all seven days. 
Certified leaders/presenters must attend their initiative-specific session for recertification, plus at least one elective session. You can review your recertification requirements on our website (you must be logged into your E.L. Achieve website account to access the link).
Expo
---
Last year we launched E.L. Achieve's YouTube channel to showcase your successes! To keep the spirit of sharing and learning alive in our community, we're asking our partners to create short videos to add to our YouTube library. Feel free to view some of the amazing work from last year and don't forget to subscribe.
District Planning
---
We are asking district teams to set time aside to reflect on the work of this year and plan for the summer and next school year. E.L. Achieve staff will be available to answer questions and provide support during February 16th–18th or at another time that is convenient for your team. 
Symposia Goals
---
Learn alongside our colleagues by sharing experiences and accomplishments with the E.L. Achieve community

Deepen learning to improve instruction and build resilient systems of support for English learner students

Reflect on implementation of Systematic ELD and/or Constructing Meaning to strategically respond to current needs 
Target Audience

---
Participants in a Systematic ELD and/or Constructing Meaning institute, including:
Central office administrators

Site principals

District and site coaches

Teacher leaders 
Symposia Schedule and Workshop Descriptions
---
Symposium Session Descriptions