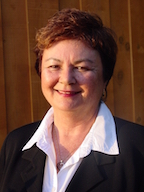 Wilma Kozai, Director; former assistant superintendent, Grandview School District
Guest blogger
Every school district faces daunting challenges in meeting diverse students' needs. Some of these struggles are unique, but many are shared by multiple districts. Telling our stories of implementing new initiatives is a way for us to build our collective understanding of the practices and systems that help or hinder our progress towards achieving our goals.
An Honest Self-Assessment
Grandview School District is in a rural community in Washington State. Three pre-K-5 schools, one middle school, and one high school serve approximately 3,600 students. Its student body is 92% Latino, and 35% are designated as limited English proficient; 70% of students receive free and reduced-price lunch.
Like most school districts that serve high numbers of English learners, Grandview had disparities in achievement between students who were designated as English learners and those who were not. Our 2015 Smarter Balanced Assessment Consortium (SBAC) scores for English Language Arts reported that for grades 3, 5, 8, and 11, between 44% and 55% of English-only students scored proficient, while only 3% to 20% of English learners scored proficient. These results were devastating and made it clearer than ever that we were failing our English learners. Teachers, coaches, and administrators were compelled to evaluate our English language development practices and find ways to improve.
In 2013-14, we began to take intentional steps to improve how we served our English learners. We established a dedicated English language development (ELD) time of 20 minutes daily in our Transitional Bilingual Instructional Program (TBIP) classrooms. While our intent was sound, our work fell short in certain ways: students did not have the support of being grouped by language proficiency level, and teachers, with limited time and language acquisition knowledge, were tasked with developing English language instruction for their EL students.
The following year, EL coaches worked with a consultant to create ELD lessons. Teachers attempted to make ELD work, but without a clear vision of language instruction, the lessons were not aligned to proficiency levels and did not have the depth necessary to support students. Students were not making the progress we had expected. Many teachers soon abandoned the lessons.
As the central office staff met with administrators and teachers, we realized that we just did not have enough in-house knowledge about how to plan and teacheffective ELD. We understood that we needed a systematic approach based on sound research. We needed to do something – and fast.
I reached out to my colleagues to find out what they were doing to close the achievement gap for English learners. This is how I learned about E.L. Achieve. We decided to explore whether their capacity building model through the phases of implementation could help us meet our district needs.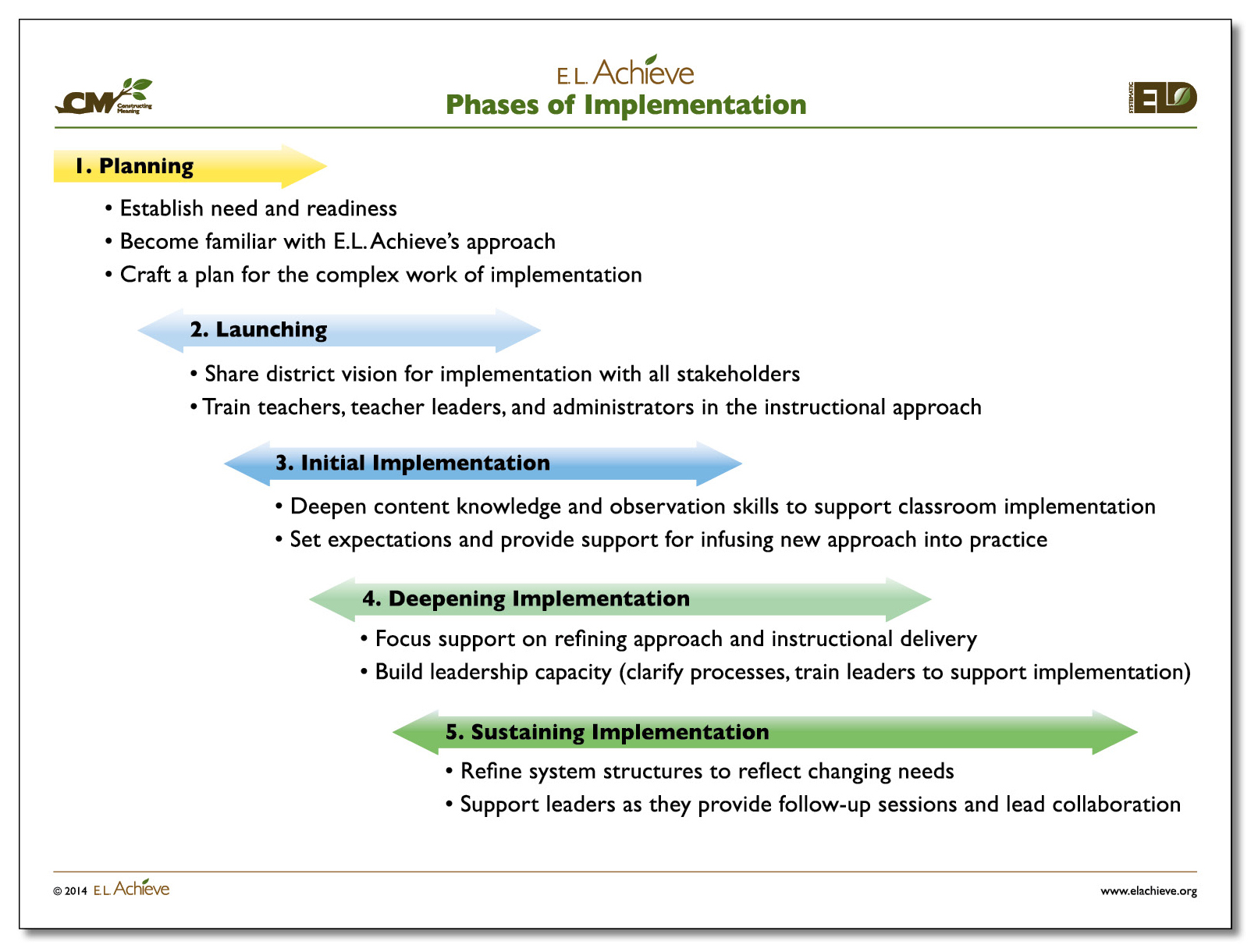 Building a Common Understanding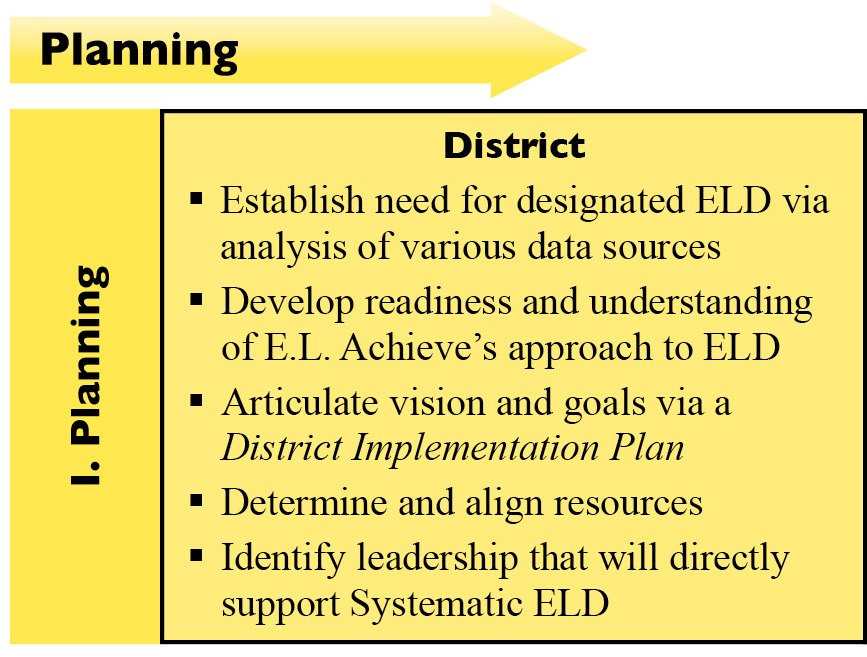 In spring 2015, Grandview took a large team – six site administrators, three English learner coaches, two district-level administrators, and all of our 19 TBIP teachers – to E.L. Achieve's annual Symposium.
As the assistant superintendent, I believed it was important to take this team because I wanted all of us to learn together and build a common understanding about how best to support ELs. I did not want the decision to be "top down" or made by a select few. I knew that if the teachers were involved in the decision, they would be more motivated to learn, willing to collaborate with their colleagues, and committed to the work. By the end of Symposium, everyone agreed that they wanted to create a partnership with E.L. Achieve and embark on the capacity building model.
This intentional exploration, which engaged staff from all levels of our system, was critical to the successful launch of Elementary Systematic ELD. It made the next steps in the planning process so much easier, because everyone knew what we were going to do. Everyone knew the results we wanted – leadership didn't have to convince anyone that we needed to move forward with this work. Grandview's Theory of Action is that if you provide every student with authentic learning, rigorous experiences, and quality instruction, they will succeed academically. Therefore, focusing professional development on ELD needed to be a priority for both teachers and students.
Getting Started with Elementary Systematic ELD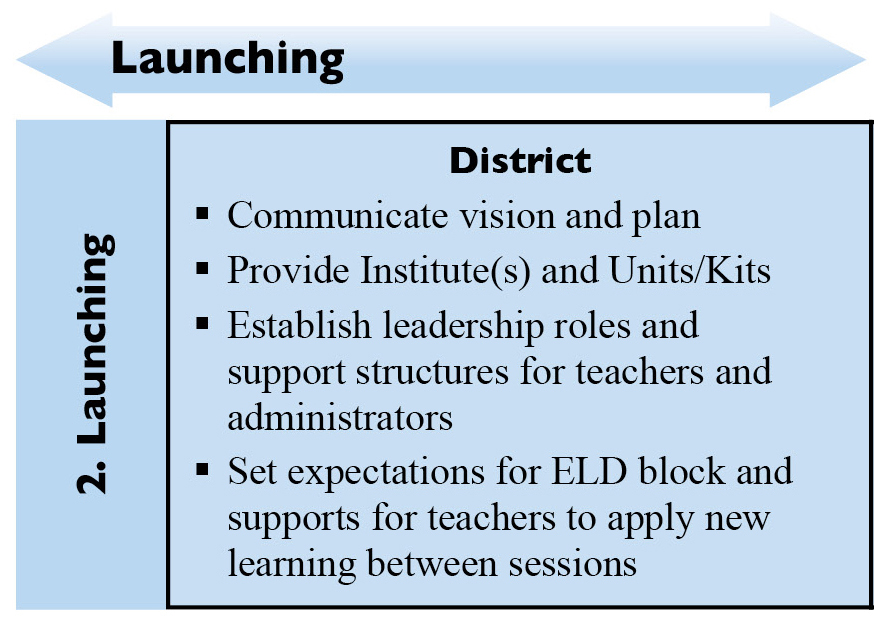 The central office staff shared a consistent message with all administrators and teachers. We defined the expectations for institute participation, classroom application between sessions, use of the curriculum and assessments, and team collaboration. Teachers understood their commitment. Having clear expectations was critical to launching the initiative.
Leaders can't lead what they don't know; principals cannot effectively provide feedback and support if they don't understand the content and pedagogy being used. Principals actively participated in the institute sessions. They didn't stand in the back, checking email or chatting with each other. They learned side by side with teachers and coaches the whole time. This quality of principal participation conveyed our district-wide commitment to this work. It also strengthened relationships – teachers felt connected and united with their principals.
Supporting and Sustaining the Work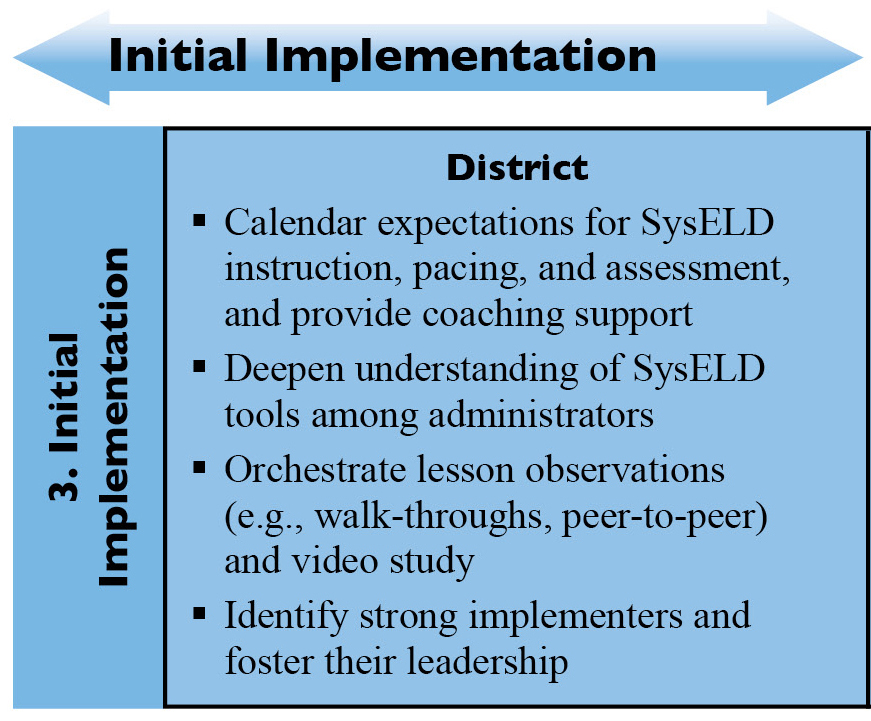 Early on, we determined a plan to support implementation using structures already in place. We knew the institute days alone were not enough to sustain the work.
During weekly administrator meetings that I led, all central office and building administrators read articles and blogs to deepen our knowledge about best practices to support English learners. Central office and building leaders worked together to develop agendas and facilitated the learning sessions for district-wide professional development days. Every principal engaged their staff in learning about language instruction (e.g., language patterns, interactive student talk, growing metalinguistic awareness) and planned next steps to support the language demands.
Once a month, all institute teachers, coaches, and administrators met in PLCs and shared successes and challenges to support their learning. They analyzed student assessments and projects. All of the principals took turns leading and preparing the agenda for these PLCs.
Principals, coaches, and district administrators used weekly walk-throughs to observe, monitor, and support the implementation of Systematic ELD. The Elementary Systematic ELD Instructional Units ensured that our instruction had a well-developed language build at each level of English proficiency. Because the units include a system for daily, weekly, and unit assessment, they helped us to set measurable goals.
Evidence of a Successful Launch
After a year of consistent Systematic ELD implementation, teachers have reported their English learners have increased confidence and agility communicating in English – orally and in writing. As central office and building leaders did walk-throughs, they saw students engage more in the talk, use different registers, and accurately use verb tenses. Outside of the classroom, students were applying what they learned about language when asking questions and using social courtesies. During instruction, teachers were modeling good practice, using the structured student talk routines, and assessing their students' language growth.
Teachers have reported how much they appreciate having a research-based, sequential, systematic way of teaching English to their ELs. In addition, they have changed the way they think about teaching language. They now understand the importance of teaching language by proficiency level and the need for students to have lots of time to practice their oral production and play around with language. This is a significant refinement along our journey to improve language instruction for English learners.
Building Capacity for Continued Growth
Each step of our work was outlined in E.L. Achieve's Leading Implementation rubrics, which lay out the work from planning through sustaining phases. Our partnership with E.L. Achieve also helped Grandview clearly understand the complexity of results-driven implementation. With this in mind, building and central office administrators started an ongoing planning process to consider how to maintain momentum and roll out the next level of implementation.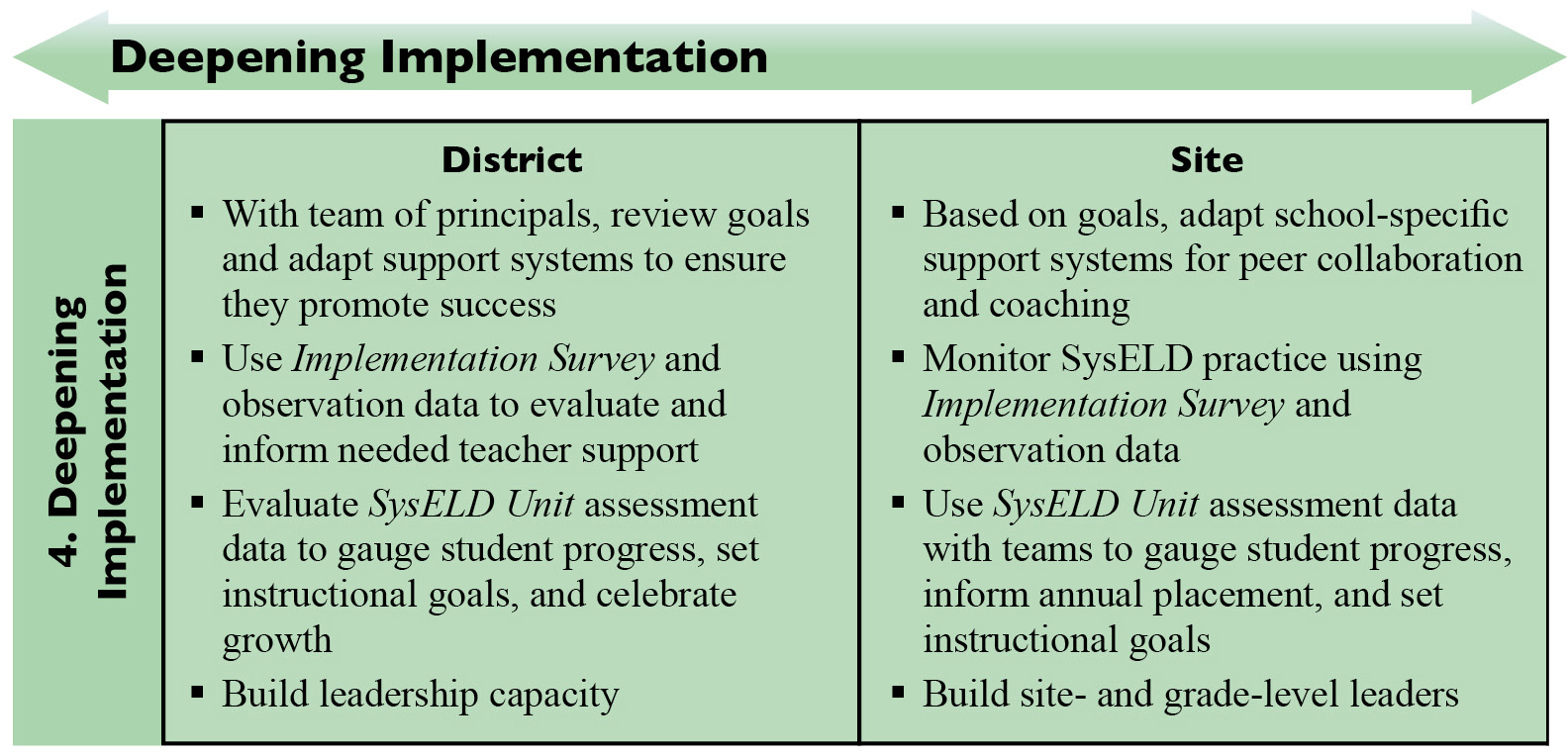 We set professional development dates for the next cohort of teachers. We carefully selected EL coaches who could become leaders and apprentice with E.L. Achieve to become presenters. This ensured we would continually build leadership to support robust, district-wide implementation. We also intentionally planned for a central office leader to continue the work when I left. Once Elementary Systematic ELD was well launched, we were ready to expand our support for English learners and teachers to the secondary level.
Teachers, administrators, and districts have so much on their plates that they often find it difficult to decide what to focus on. But like so many other districts across the nation, our poor test results screamed at us: we needed to do a better job of supporting our English learners. Our job as educators is to provide equity and access for all students, and we were not doing this. Through our partnership with E.L. Achieve, Grandview School District now has a clearly articulated instructional program to serve English learners and a system for ongoing program improvement.
This blog was previously published with the title, "Laying the Groundwork: A district's journey to refining language instruction for English learners."