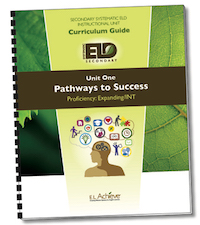 To engage successfully in coursework taught in English, secondary English learners must operate from a competent second-language base. Many adolescent ELs are LTELs, or long-term English learners. They have spent most or all of their educational careers in American schools and are comfortable using English in most settings. On the surface, these students do not seem to need specific language instruction. However, their verbal fluency often masks their need to gain a deeper understanding of English.
This is where the Secondary Systematic ELD Instructional Unitscome into play. They have been carefully designed to offer language instruction that is interactive, student centered, standards aligned, and specific to students' identified proficiency level.
Six units are planned for three proficiency levels – New to English/Beginning, Expanding/Intermediate, and Bridging/Advanced. The goal of Unit 1: Pathways to Success is to learn language to interpret a range of concepts related to success. English learners learn about and explain habits of success, discuss challenges that prevent people from meeting goals, and observe ways to develop habits of success.
I was fortunate to have the chance to talk with Duyen My Tong, a Secondary Systematic ELD teacher who taught the unit last fall, about her work, the classroom, and how students responded to the new unit.
Welcome, Duyen! Today we are going to talk about the SysELD Pathways to Success Expanding Unit.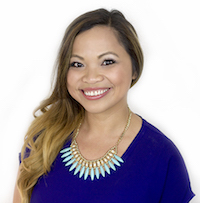 Thank you so much. I feel so honored to be here.
The pleasure is ours! Could you tell a little about what you teach, please?
Sure. This is my tenth year teaching. I started out teaching high school; my first four years, I only taught ELD. But after my fifth year, I had to teach ELD and ninth grade English. After that, I added Vietnamese. So right now I actually have three preps: ELD, ELA, and Vietnamese.
What part of the country do you work in?
I teach in Orange County, California – in Garden Grove.
How did you become involved with E.L. Achieve?
In my second year of teaching, we were trained in a cohort by E.L. Achieve. Susana (Dutro) trained us. I have been using the Systematic ELD framework for the past eight years now. You could say I am a faithful follower of E.L. Achieve, and I think I wouldn't be the same teacher if I hadn't been trained.
I've used a lot of the Systematic ELD framework, and the language and the teaching of Systematic ELD, and it has really changed the way I teach my ELD classes. In the district, we now do a lot of follow-up training, as well. We also have a Summer Institute where teachers get to teach for only two hours and then collaborate with our colleagues for the next two hours. We did that every day in the summer for about four weeks. That was really fun!
One of the things I really enjoy about the units is that, as a teacher at the secondary level (I'm sure other people can empathize with me), you're lucky if you teach one prep. I have three preps, and lesson planning can be a very tiresome process. As much as I enjoy it, it does take a lot of time. And with this unit it's just so great because all of the handouts are already there, and each student gets the Interactive Notebook, which means I don't have to run any copies. That saves time.
Two, all of the unit's PowerPoint presentations are online, so I just access them. Every morning when I come in, I write my objective on the board, I pull up the PowerPoint, and I have my CG – my Curriculum Guide – ready. The night before, I go through all the material in the lesson, and then in the morning I pull out all the necessary materials for that particular lesson. I have my PowerPoint ready, as well. When the students come in, they have their own copy of the Interactive Notebook. In terms of prep work, this has saved me a lot of time and stress.
Additionally, I know the unit was developed by a group of experts in the field and so I feel very confident using it. I know I'm using the right materials at the appropriate language level; when I'm teaching, the students are benefitting because the materials have already been vetted for this age group and this proficiency level. This makes me very comfortable teaching them.
That's wonderful to hear. Would you mind sharing if this has changed the way you teach?
Of course. It's about student interaction. I have really conscientiously grouped students – and we're not talking about just A/B Partners or homogenous grouping – I'm talking about real interaction where students are using language to communicate with each other, and it's in a structured way. I love all of the structured language practice routines, where students get together through Lines of Communication, Clock Appointments, or another routine, and then they are able to discuss their ideas with each other. This has become very important to me especially as a teacher of ELD – that if you can say it, you can write it. It totally makes sense, you know? Even during the teacher credentialing program, it seems like you should always be in the front lecturing and telling the students what to do. But my mindset has shifted with E.L. Achieve in that they – the students, the key players – they should be the ones talking, learning, and involved. I'm just a facilitator. So I think changing that outlook has really made learning fun. And learning should be fun! The students are much more involved.
Do you see the students gain confidence when they are invested by participating more?
Yes, yes. They've gained a lot of confidence, and they have told me so, too. I teach ELD but I'm also their ELA teacher, and so for the second period, we have to use our district-approved curriculum. What they're starting to notice is that the content they learn in ELD – like the language patterns, the language functions, the language in itself – these are all transferrable. They are starting to see that. For example, we read this story called "Rogue Wave" in our HMH collections for seventh grade, and they're like, "Oh my gosh, I know what 'bold' is … and I make a connection to words like 'perseverance' or 'being courageous.'" They are able to describe somebody because they're using the language patterns taught in the unit. And then they're also able to pull out the adjectives or nouns from their actual ELA curriculum, or form complete sentences using what they have learned from their ELD class with me.
I think they're buying into it because they're not wasting time. It's as if they are starting to understand that ELD is not a class for people who don't speak English but it is for you, a safe place for you to practice the language and take what you've learned and bring that with you to other content areas. I think they're starting to see that, starting to see the power of learning in ELD.
Are there any other student responses that come to mind related to the Success unit?
Well, I love the content of the unit. It's not just about: Now let's learn a grammar lesson. The grammar is embedded in the content. It was funny. One of them asked me, "How come we don't learn grammar?" And I said, "We are! It's not what you think!"
This unit is so powerful because we're teaching students to be resilient, to be persistent, to be diligent. These terms are useful because the students are not only learning academically; they can use these words and really work within themselves with the question: How do I become resilient? Especially for our English learners and my student population – it's difficult. You're new to the country. You may or may not even have that many friends. Your parents don't speak English. Maybe they don't speak English well. The struggle is real. And so to be able to teach these students to believe: You know what, you are courageous. You are persistent. You are resilient. For you to come here every day, whether you take a bus or not, that is courageous. And so it hits home with a lot of the students. And that's why I feel closest to my ELD students. We're able to connect in that personal sense where we're vulnerable to each other. That's why I really like the unit, in terms of content, as well. It's not just teaching students these patterns or the language itself. It's the content of the lessons!
It sounds like the unit layers in the learning. They respond not just to learning the language patterns but to the context of habits of success, resiliency, and persistence in the face of all these challenges. That sounds really empowering.
Yes, I think that's what teaching is. And I don't need to spend a lot of extra time researching online, going through articles, when everything is already at my fingertips. As I'm going along with the unit, I can just add in additional information about my own personal experience to make it even more powerful so that I can connect to my students, rather than just spending time looking for the materials. That's really helpful. And I love the skits in the Expanding/Intermediate unit. The students love the skits, as well. We're taking it to the next level – after they write their skits, they will record themselves performing them. So they are very excited about that.
That's great feedback for them. Is there anything that surprised you as you worked through this first unit?
There are good surprises. The timing of all the lessons has been really great. The students are engaged. They are producing work at their level.
It sounds like you can count on the unit lessons.
Yes, the timing is really good. The students are responding very well to the unit. It's interesting because they think it's easy. And then they get to the writing piece and they're like, "Oh I made a mistake here or there." And so they think it's easy, but it's actually challenging in a different sense. That content is not like reading Shakespeare or deciphering really complicated text. The idea of it is simple to grasp. But the language behind it is difficult and so while they might think it's easy, it's not.
If you could impart a bit of wisdom to teachers in the field who may be embarking on the same path, what kind of wisdom or advice would you offer?
I would suggest reading through the lessons first. And then, as you're teaching, have the Curriculum Guide with you. That is what I still do. I literally hold it with me. Then I have my clicker to go through the PowerPoint. I reference the CG to make sure I have covered all the points. And then I would say to other teachers: Just have fun! Because the unit is really fun. Have fun with the kids. Have fun with the content. Make it interactive.
Thank you for sharing your thoughts about the unit. Is there anything else you'd like to share with us?
My students have given me a lot of feedback in terms of the unit – basically testimonials. For example, one of the girls in my class took the CELDT a couple of weeks ago. And when she came back, she said, "Ms. Tong! I did so well." I said, "Oh my gosh, I'm so happy! Tell me." She said, "Last year, I couldn't even answer the prompt but this year, I did." I said, "How did you do that?" She said, "Well, last year you taught us sequencing words in the unit, like 'In the beginning' first, so I just did that. And then you taught me other things. So I used the language frames that you taught me." I said, "So that was really powerful for you to use and it helped you be more confident on the CELDT test?" She said, "Yes, I think I did really well."
She passed! I just got her results the other day.
What a great example. Thank you, Duyen, for your time today, and for all your work as a dedicated teacher of English learners!
In the following student video interviews, three of Duyen's students share why the Pathways to Success unit matters to them:
[vimeo url="https://vimeo.com/251872839″]
[vimeo url="https://vimeo.com/252348923″]
[vimeo url="https://vimeo.com/251872437″]
Interview by Katja Elias, editor with Duyen Tong. Student video interviews by Michelle Thelander, CFO