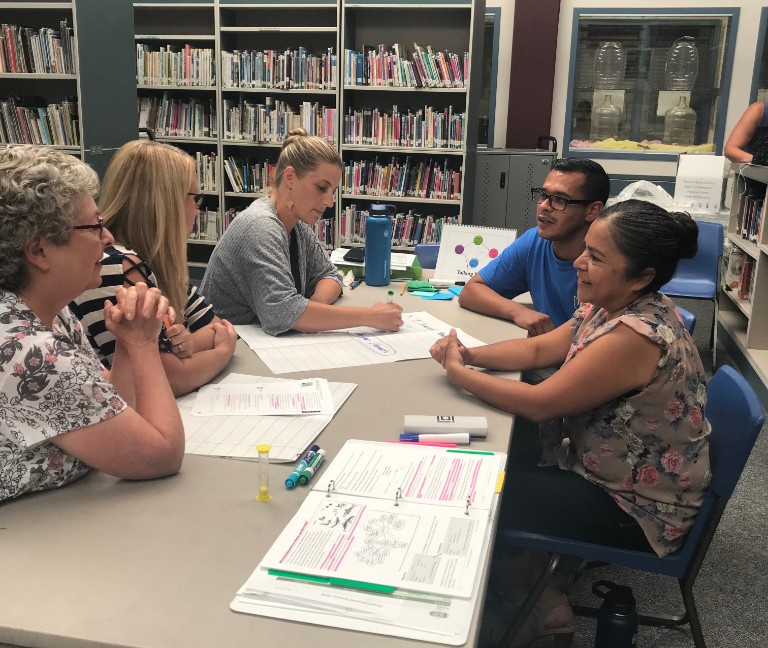 For a district fortunate enough to have paraprofessionals on its team, they can have a crucial influence in the success of English learners. Because they often meet with students in small groups or one on one, paraprofessionals have a unique opportunity to focus their attention on specific students. They can pinpoint challenges, dig into places where students need help, and build caring relationships that bolster student confidence and increase a sense of belonging.
Though not certified as teachers, paraprofessionals may have a daunting array of responsibilities and are expected to deploy a range of knowledge and skills. In any given session, they might need to explain a math concept, help write an essay, reread a story, catch up a group that's behind in a history lesson, or simply make sure students are finishing their homework. Whether they work with students from a single grade level or classroom, or various classrooms and grade levels, they must be ready – on the fly – to identify what students are struggling with and how to best help them.
While all students have specific needs, serving English learners requires additional knowledge to support language acquisition and learning. Paraprofessionals are not always included in professional development and may not be equipped to meet those needs. As they work to fill gaps in learning, they may not have enough information to build off of English learners' strengths or to communicate with teachers about the nitty-gritty of students' struggles and accomplishments.
Inviting a shared vision
If English learners aren't meeting academic standards, it is often because they are being tripped up by language – whether in oral expression or writing. In order to rise to the linguistic demands of the Common Core State Standards, all students need to become adept with the nuances of English vocabulary and language structures. Because of this, it is imperative for educators to place academic talk at the center of a vision for student success.
As leaders devise comprehensive plans to prepare all team members to better strengthen services for English learners, we encourage them to include paraprofessionals and optimize their system of support. They might ask:
How can we equip paraprofessionals with the knowledge, strategies, and resources to help realize our district vision for student achievement?
How can paraprofessionals deepen their understanding of the powerful role of language in content learning and help support students in the academic talk they are learning?
How can we optimize the time paraprofessionals spend on campus so they are real sources of strength for teachers and valuable mentors for students?
Professional learning should build paraprofessionals' ability to provide concrete supports that move English learners forward in their language development. When they – along with all the other adults on campus – understand that language is high leverage and portable, it reinforces the importance of language development. It heightens the schoolwide focus on the benefits of an agile and easy command of language. Students can see how their language knowledge is useful in school and beyond, how they carry it from one class to another, and how it helps them meet their academic goals.
A well-stocked toolbox
Paraprofessionals need a toolbox to bolster language learning. They need specific strategies that efficiently equip them to help students unpack the language they need and apply it in meaningful ways. We suggest three topics that can be especially impactful for paraprofessionals to explore with their colleagues:
1. Interaction routines
As we know, students need lots of practice using English in the depth and complexity they need. Paraprofessionals can maximize their small-group time when they have a repertoire of interaction routines on hand. During these times, students have a chance to articulate what they are having trouble with, explain what they understand, ask each other questions, and take advantage of their "collective brain" as they discuss and learn together. When students speak in small groups, it also gives paras an opportunity to listen closely and establish relationships with the students.
When paraprofessionals and classroom teachers are reinforcing the use of similar routines, students are more confident because they know what to do. For example, teachers may regularly use routines such as Talking Sticks and Talking Chips throughout their lessons. If students already know how these routines work, paraprofessionals can easily incorporate them into their lessons and ensure that students get the practice time they deserve. They can use them to discuss the content of a lesson or find out more about the support students need. This might sound something like:
"Let's start by passing around a Talking Stick. When it's your turn, tell me what you're doing in class. What is the learning objective? What do you understand? What are you struggling with?" One student might say, "We're supposed to be doing X, Y, and Z. I get X, but I'm not sure how to get to Y and Z." Another student might say, "I don't even know what the objective is."
By hearing where students are and what they need, the paraprofessional is better able to maximize time with the students.
2. Hallmarks of proficiency
It is important that paraprofessionals have knowledge of English proficiency levels and how language builds in complexity along a continuum, or scope and sequence. For example, learning to use simple sentences is key to the Beginning/Emerging level, while combining and elaborating sentences are Intermediate/Expanding skills, and the ability to use complex sentence structures and more precise vocabulary is the work of the Advanced/Bridging level. Having this insight into their students' current proficiency level(s) helps them realize, "That's why Ivan uses generic nouns like people instead of specific words like teenager or adolescent," or "That's why Cati doesn't yet know how to combine sentences." They understand that even if a student is in third grade, it's fine that they are writing in simple instead of complex sentences because they are working along a continuum of proficiency at the Emerging level. Knowing this, paraprofessionals can match their expectations to students' language abilities and be aware of how to build toward increased proficiency.
When they have opportunities to discuss and analyze students' language use with a team of colleagues, paraprofessionals – and teachers – can deepen their understanding of proficiency levels by sharing insights and a-ha moments.
3. Cognitive functions or purposes
At the core of each academic task is a specific cognitive function: explain and describe, cause and effect, compare and contrast, sequence, or proposition and support. These functions inform the thinking work students are asked to do across content areas.
Understanding the cognitive function of a task allows for a clear grasp of instructional purpose, and this can have a transformative effect on our teaching practice. Paraprofessionals can ask students more specific questions, make connections to other work, and guide students in unpacking and applying the language they need to express their comprehension. Students who understand the purpose of instruction are far more engaged than those who are feeling pressured to complete isolated tasks.
A paraprofessional could say to a student, "I know you're struggling with these math problems. They're asking you to sequence your steps, and what you have written is confusing. You've been learning language for sequencing in ELD and language arts. Try to use what you've learned to help you with this math problem." The student realizes, "Oh, I do know how to talk about sequence." It eases the student's cognitive load when they see that they already have the language they need. In this way, paraprofessionals are providing consistent support regardless of the student's teacher, grade level, or content area.
Knowledge of language functions also empowers paras to communicate in specific ways with the teacher. For example, rather than giving a generic summary such as "They were able to finish this paragraph," the paraprofessional can report:
"We were working on compare and contrast for the two forms of government you wanted us to review, and Javier used all of the language patterns that he had learned from you. I was so proud of him."
To ensure relevant and timely content connections, paraprofessionals can ask grade-level teams detailed questions:
"Next week, our stories will have a lot of describe and explain work. Have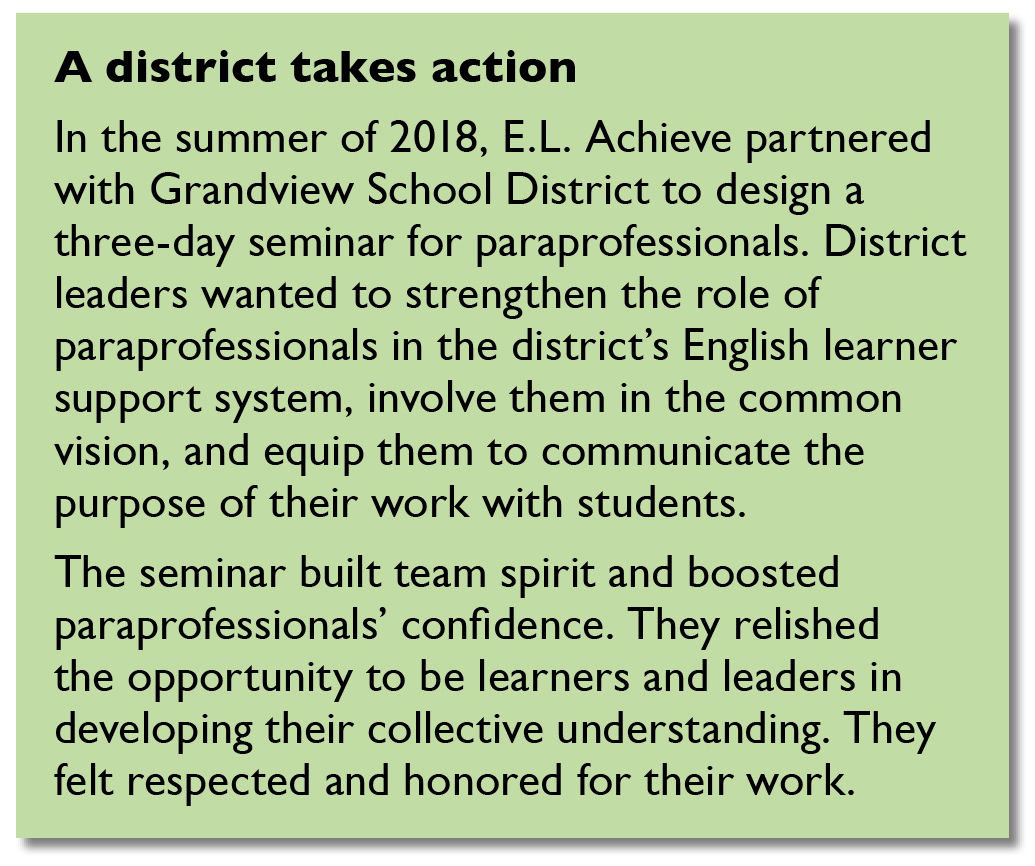 you taught any language for describe and explain in your classes yet?"
Everyone is empowered when they know what the learning goal is and how to build off of students' strengths to address their needs.
Paraprofessionals play a key role in the district's vision for student success, in conveying the power of language to adroitly navigate school and life, and in helping students believe, "Wow, everybody at my school is really here for me." Their relationship with a student might be one that keeps them in school.
Written by: Aidé Vásquez Yepez
Please join the conversation by commenting on this blog, posting on our forum, or emailing us at info@elachieve.org.