Refining instructional practice is hard work. It requires a positive learning environment – a safe place to take risks. It also requires real-time models to mark, watch, and study how others operate in the classroom, coupled with opportunities to investigate our professional practices and move us closer to instruction that promotes a thriving and productive learning environment for students.
Integral to E.L. Achieve's mission is focusing attention on how we teach so that students can improve. The Lesson Observation/Self-Reflection and Refining Our Practice tools dovetail with the practice of Learning Walks, setting the stage to identify effective practices in your classroom and school. The tools focus attention on what works and what needs improvement.
Learning Walks are opportunities to notice the effective strategies and productive practices that lead to student learning. As the term suggests, a Learning Walk is an opportunity to learn, not a time for evaluation or criticism.
A Learning Walk is deliberate. It brings a small group of people – administrators, coaches, or teachers – to a series of classrooms for a brief visit. The tour highlights effective instruction in the presence of those who may benefit from observation.
The deep learning comes after the observations – during discussions about how to incorporate best practices more consistently throughout classrooms to build a solid vision of instruction.
For inspiration, we'd like to offer some guidance to make a plan in your school or district. In that spirit, here are three components that lead to the successful and satisfying establishment of Learning Walks:
Take a thoughtful approach to continuous improvement
Schedule monthly professional development to help build effective implementation – strong classroom practice and appropriate just-in-time support – using the six Refining Our Practice Skills for Constructing Meaning or Systematic ELD.
To be sure everyone benefits, each teacher regularly participates as either a presenting teacher or an observer. Each site leader is part of the Learning Walks team as well.
Based on teachers' needs and observations, choose the next logical ROP skill to develop as a team. It is helpful to narrow the focus to one or two competencies within that skill. For example, if your team is working on the skill of Oral Language Production (SysELD) or the corollary Structured Student Talk (CM), you might focus on the last two competencies within those skills: model and practice each routine, and build accountability into interaction routines. (See graphics.)
These competencies become the focus for improvement in the coming weeks. Everyone hones their practice to get to at least a three (3) in the competencies. Everyone works to move up the rubric.
Each Learning Walk is informed by a short-term goal that builds to the next goal so that teachers and administrators continually refine their practice.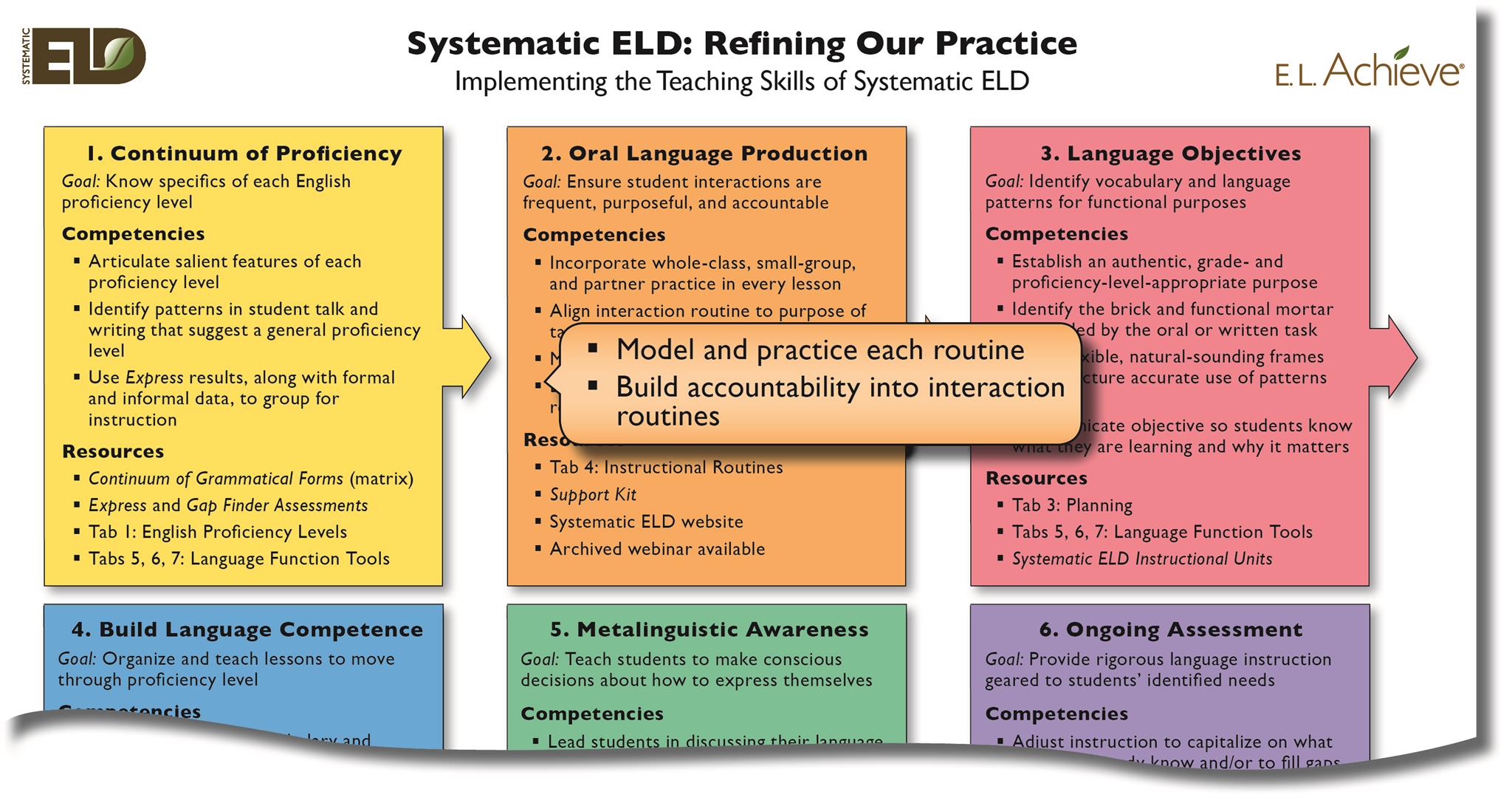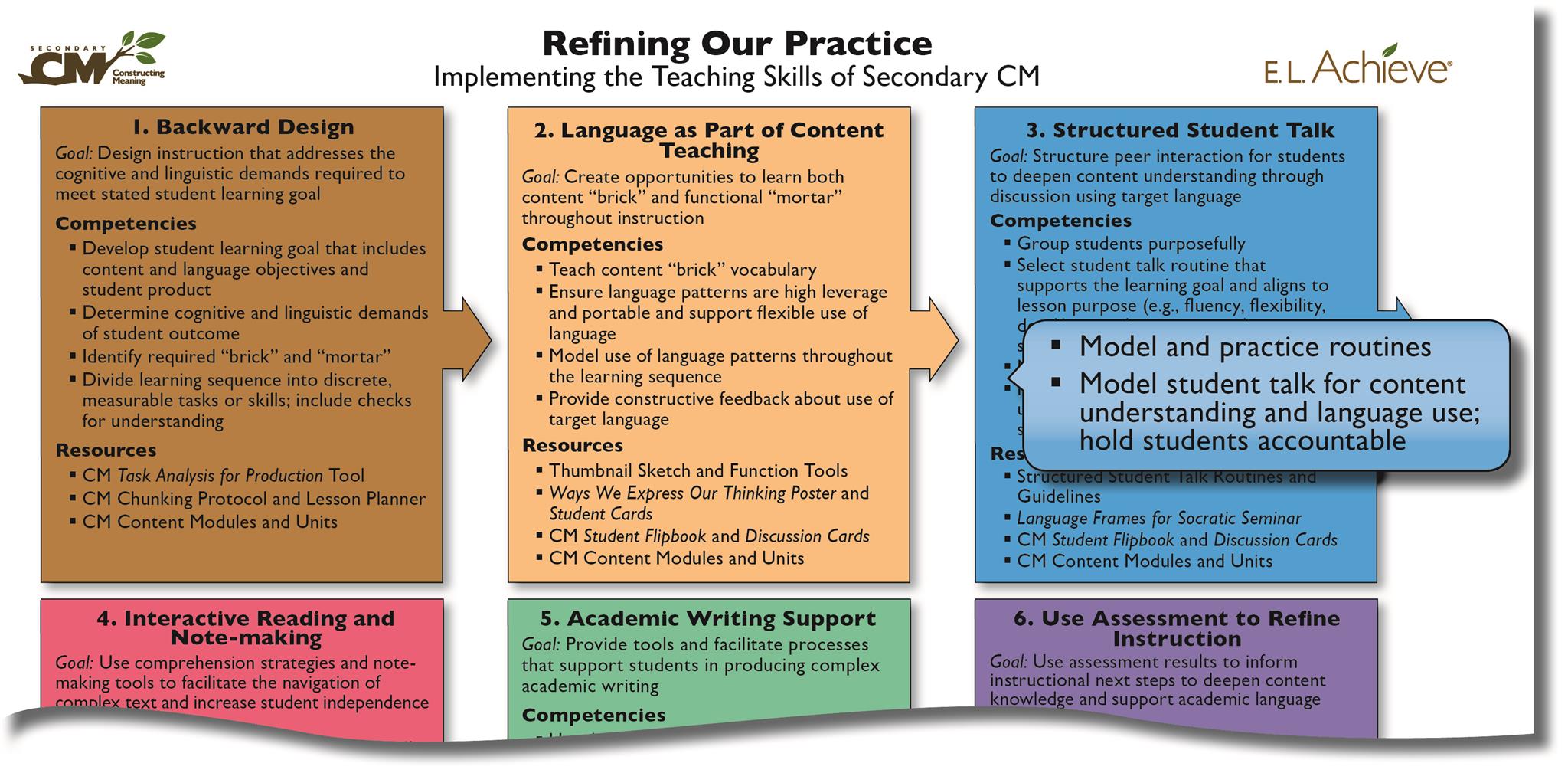 Plan each Learning Walk cycle
Logistics and timing are the keys to a successful approach to Learning Walks.
1. Establish a clear purpose
Dedicate professional development time to discuss the upcoming session and the focused target skill and competencies.
Discuss the connection to the other ROP skills and the CM or SysELD observation tool, and share a model.
Structure small-group time for teachers to discuss what the skill looks like in the classroom and which lessons illustrate the target competencies.
2. Set logistics for a smooth process
Determine who will teach and who will observe.
Schedule time blocks to include several classrooms.
Observers need copies of the rubric and observation tool.
Consider asking observers to leave a quick note of encouragement for the teacher upon leaving – something they saw that demonstrated the competency being taught or practiced by students.
3. Debrief the learning
The key to this process is robust, purposeful debriefing as immediately after the Learning Walk as possible.
Engage each teacher as a learner through concrete prompts for small-group discussion: What are some insights you gained? How has your understanding shifted? What are specific ways you will improve your practice as a result? What support do you need to do this?
Provide planning time.
Schedule one-on-one coaching time with teachers and/or PLC time, as needed.
4. Build from one Learning Walk cycle to the next
In a few weeks, schedule the next professional development time. In small groups, teachers share a success with the skill they've been working on. Focus on a new target skill or specific competency that builds on the last session, and schedule and prepare for your next Learning Walk. To build new skills without letting go of past progress, you may weave in skills that have been a focus in the past.
Based on teacher needs, consider other supports: intentional peer observations of an entire lesson, lesson studies (co-planning/debriefing), or video observations.
Collaborate and celebrate
When teachers engage in Learning Walks on a regular basis, they reinforce and reflect a robust environment of professional learning and development. Naturally, students benefit from their teachers' ongoing growth. A secondary benefit is that teachers work together closely to build community around work that matters. On that note, here are a few additional tips from experienced teachers and administrators:
Take a collaborative tone. It's about learning, not evaluating.
Observe a range of grade levels or content areas.
Don't forget to celebrate – a thriving classroom serves as both an inspiration and a roadmap.
Written by: Susana Dutro, Co-Founder and CEO with contributions from Scott Townsend, Professional Learning Team
Please join the conversation by commenting on this blog, posting on our forum, or emailing us at info@elachieve.org.