Nancy Reynolds and Karen MacDonald
Salem-Keizer School District
Last year, our district began learning more about effective professional development.
From our inquiry into research around this topic, we discovered that professional development alone has a limited impact on teachers' instructional practice. Yet, when professional development is followed up with coaching, the impact on teacher practice increases exponentially.
In response to what we learned, we are rethinking how we deliver our CM teacher institutes. To be sure there is a coaching component to the professional development offered, we are adding an hour of 1:1 coaching for each participant, each week, to support them as they begin to implement each step of CM. The fieldwork for each institute day gives us a focus for each of these sessions.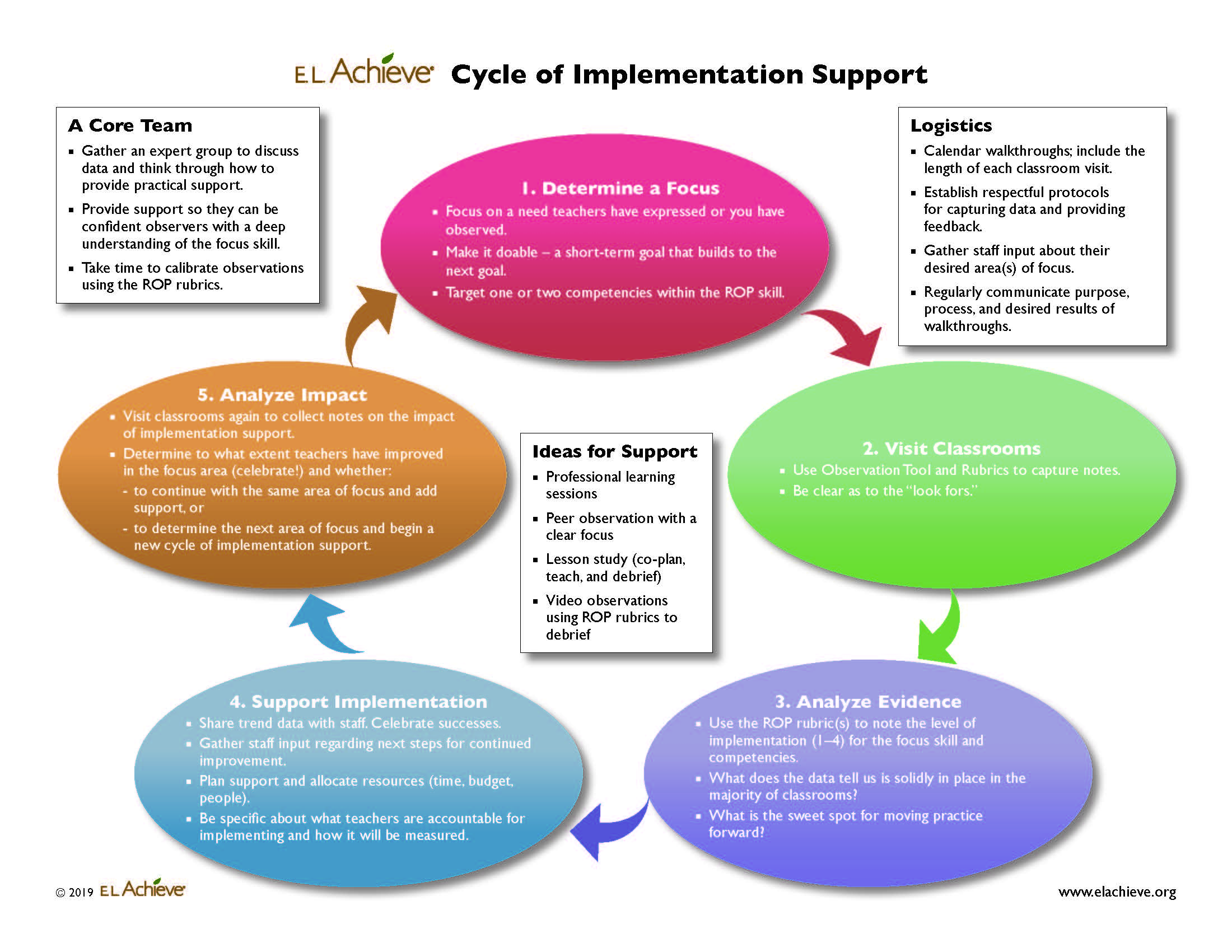 We know from our continued partnership with E.L. Achieve that implementation is a process and that to truly know how it's going, we have to look to classroom practice. This is what the Cycle of Implementation Support is all about.
Given this, our coaching team designed a multi-phase approach to creating our coaching cycles. This is new for us and our teachers, and we recognize that as part of making the sessions work, we have to build in time to develop our relationships and start to earn trust.
Pre-Phase – Be sure you have a shared vision:
Spend time at each site to learn about its culture.
Get to know teachers and their classrooms.
Work with administrator and staff to craft a coaching plan for institute participants.
Phase 1 – Backward Planning and Goal-Setting:
Meet with participating teachers to backward plan in a specific unit. This is a review of the work they did during Institute Days 1–2.
Consider fieldwork from the institute to create alignment between what is happening in classrooms now and what we hope will happen post-training.
Agree on when Phase 2 observations will occur.
Phase 2 – Lesson Observations:
Teachers teach their planned lessons.
An instructional mentor observes what they can of these lessons, providing feedback based on the focus identified in Phase 1.
Phase 3 – Discuss Instructional Practice:
Debrief lessons.
Look at data from assessment.
Create a plan for ways to improve and/or level things up.
Phase 4 – Refine Planning and Instruction:
Repeat phases 1–3 as many times as possible.
Once we get into the work, we plan to share our success and reflections with you all!
Please join the conversation by commenting on this blog, posting on our forum, or emailing us at info@elachieve.org.