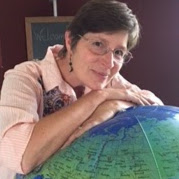 Donna Doherty, Eureka City Schools
Guest blogger
Three years ago … I did not know how to write a simple essay. It would take me about two weeks, and now I can write an essay without really needing any help. This progress was achieved by practicing a lot and writing big essays to prepare me for college. I realized that it's not as bad as what I thought it would be, to be writing essays all the time. –Mayra
My writing has improved from four years ago because of the simple fact that I was able to fail and learn from those failures to become the writer that I am today. I am able to be a decent writer because of all the help and positive feedback that I was given. –Ulysses
Three years ago, my writing was very unorganized, a lot of spelling errors, not descriptive enough, and because I was never good at English I didn't really know how to even start an essay … I realize that all I need is help from others and really deep thinking in what I write. –Odaliz
The words of these three Eureka High School students illustrate the positive results of an ongoing shift in the staff's approach to teaching and supporting all of our students, but especially our English learners.
Eureka City Schools (ECS) is the largest district in rural, isolated Humboldt County with 3,767 enrolled students. A full 65 percent of our students are socioeconomically disadvantaged, and our county has some of the highest ACE (adverse childhood experiences) scores in the state. We have 17 percent English learners, mostly Spanish and Hmong speakers. People in neighboring communities often have negative perceptions about us as the "big city" with a larger share of problems, so we were cautiously jubilant when we saw how our 11th graders scored compared to their peers.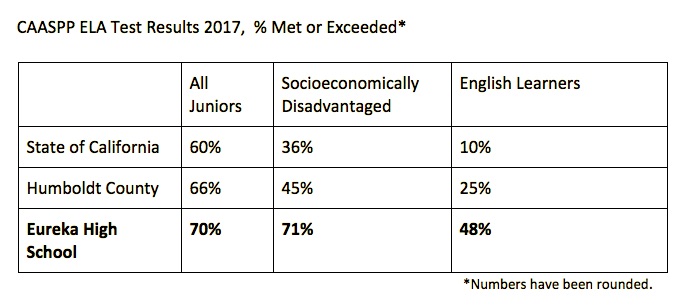 How we got started
Our shift had a rocky start in the fall of 2010, when my high school colleagues and I were forced to attend yet another professional development day led by some out-of-town presenters with a company we had never heard of. We were not pleased and entered with our attitudes on high alert, ready to dismiss anything they had to say.
As the first day progressed, I found myself becoming open and curious. Halfway through the second day, my teacher brain went into overdrive with the new methods and tools laid out before me in my Constructing Meaning handbook. Instead of my efforts to piece lessons together in well-intentioned but haphazard ways, here was a roadmap – grounded in research – providing a coordinated and effective approach to instruction.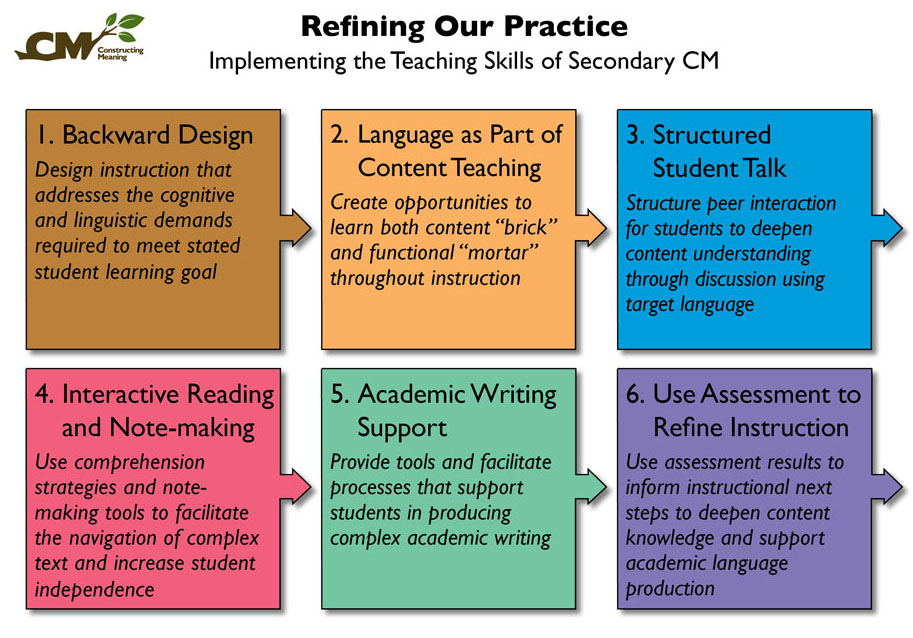 The skills of Secondary Constructing Meaning were familiar to me as a teacher; backward design and interactive reading are effective pedagogy that most experienced teachers incorporate into their practice. However, the big idea that sets Constructing Meaning apart is the integration of explicit language instruction. These skills are intended to build from each other and work together to maximize content and language development.
My classroom journey
After my first CM institute, all I really wanted were the sentence patterns. I believed that all I needed to do was teach students how to use those templates and magic would happen. I disregarded the absolute importance of speaking as rehearsal for writing.
As my understanding has evolved, I now have a standing commitment to incorporating structured student talk in every lesson, varying between partner talk, small-group discussions, reporting out, and whole-class whip-arounds. Using peer interaction to deepen content understanding and as a rehearsal for writing is outlined in Refining Our Practice CM Skill Three: Structured Student Talk. As with all six CM skills, there is a rubric to guide classroom practice. To illustrate, here is an excerpt from the rubric for this skill:


Student comments validate this purposeful approach. Joua shared that her content understanding is stronger because of the group discussion. And Vierra commented, "I can have deeper ideas to know how my work will be good and my partner give me advice on how to improve it."
As I field-tested CM over the next few years, I learned that substantial student growth and achievement come from the coordinated use of all the skills within thoughtfully designed units. When English learners spend consecutive years in learning communities with fully "CM-icized" curricula, they gain substantial confidence in communicating their thinking through discussion and academic writing.
Due to the small group talk and the partner talk, I am more confident to talk in front of people and I don't get nervous anymore. –Jessica
Two years ago my writing doesn't have strong commentary, but now my commentary become stronger and mostly it is best part of my paper. –Sukhmanpreet
Four years ago my writing was plain with no intention of catching someone's eye, but now it's full of great commentary, quotes, and great vocabulary. –Yaque
Building capacity and boosting skills
It has been exciting to see the ways that CM training has evolved and grown over the years to better meet the needs of adult learners. In much the same way that our students need scaffolds for a new "stretch," our teachers need guidance and practice to build capacity and overcome implementation hesitancy.
This statement from E.L. Achieve has become our guide:
"No matter how effective an individual teacher, without the support of an effective system, strong student achievement is limited to pockets of excellence. Teachers deserve a system of support that includes a clear vision of instruction, adequate resources, time for collaboration, and a vibrant community of learners." https://www.elachieve.org/becoming-partner/teachers.html
E.L. Achieve uses a capacity-building model in partnership with districts so they are able to sustain the work in the long run. The goal is for teachers, principals, and district administrators to work collectively to transform outcomes for English learners.
When teachers are in the initial implementation phase, we encourage them to try out new strategies and collaborate with a peer to discuss what's working right away and where new strategies didn't work as expected. As teachers move into the deepening implementation phase, it is important to continue to offer them support, both in going deeper into their practice for each skill and in weaving many CM skills together.
In ECS, we have found that implementation and depth of practice must be directly supported. Our instructional coaching team has designed CM "Boosters" that focus on one skill, allowing teachers to experiment, plan, field-test, and adjust the use of a specific tool or routine far beyond the five days of the workshop. The Refining Our Practice rubrics ground our learning and help teachers gauge their level of confidence with implementing focus skills. The rubrics provide a point of reflection for the teacher and valuable data for the instructional coaching team. Most recently, members of our coaching team brought back new ideas from E.L. Achieve's 2018 Symposium and designed Boosters for structured student talk and a new variation of GOGO (Give One, Get One). Teachers within ECS are already requesting more Boosters for next year.
A first step for many teachers in linking CM skills is connecting the first three skills – Backward Design, Language as Part of Content Teaching, and Structured Student Talk – to plan for a robust class discussion. Providing students the "mortar" they need in differentiated language patterns unlocks the doors that are otherwise closed to them, helping them to enter into the academic discussions and assignments in their classrooms as full participants, not shadows on the wall.
Teachers find that the whole is greater than the sum of the parts. There is an almost magical synergy that happens when teachers put all six CM skills together. The lessons have clear focus, and students have plenty of informal oral and written practice with the content and academic language they need to answer the essential question or craft more formal writing with greater confidence and depth. Without this ongoing support, there is a danger that teachers' implementation will plateau and the teaching will lose its dynamic quality that allows the instructional scaffolds to shift over time to match students' growing levels of proficiency and achievement.
Fast-forward eight years: CM is our way of doing business at Eureka High. We have internalized the individual skills, but more importantly, we see how the skills fit together as a framework for instructional design. A few of us have become district trainers and we just finished our fourth in-house training for recent hires in all secondary subject areas. Word spread across the district about the efficacy of CM strategies, so this year we brought in E.L. Achieve trainers for all our 3-5 teachers, as well as Systematic ELD training for our K-12 EL specialists.
As our school's 2017 scores indicate, our efforts are leading to academic acceleration for all our students. And most importantly, we hear it in student voices:
I realize that writing is easier than what I used to think of it. After writing for four years I feel confident in my writing. –Yae
Two years ago my writing was lacking content and structure wise, but now I have taken it to the next level and improvements have been made. This progress was achieved by believing that my writing could make a difference. I realize that making this change in my writing was nothing easy. Next year in my Senior classes, I want to remember to keep making academic changes and pushing myself to the limits. –Angel
I am able to have a perfect sentence structure in my essays because the sentence [patterns] that I was given helped me a lot and I was able to add more details. –Stephanie
I am able to have better commentary in my papers because of the multiple drafts that we do for each paper. I realize that having more time, and using sentence [patterns] I could write a better paper with less errors.
–Ahmad