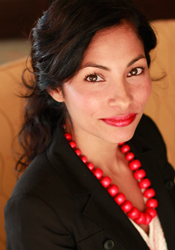 Raquel Núñez, Director of Elementary Services
The Lower Yukon region is an isolated area of Alaska that serves native Yupik families. Children in the villages acquire English from their elders, who are English learners themselves and speak a variation of the language.
In a quest to better prepare teachers for working with their students, the Lower Yukon School District began implementing Elementary Constructing Meaning (CM) in 2013.
Until 2012, students in the district received only "on-level" instruction – meaning that if a fifth grader was reading at the second-grade level, he spent all of his instructional reading time doing only second-grade work. Students had not been receiving access to the core curriculum, and district administrators identified the need to train teachers to provide explicit language instruction throughout the school day. CM was seen as a tool to help teachers understand how to scaffold grade-level demands so that students could begin to do grade-level work.
Jamie Loun, a fifth-grade teacher in Mountain Village, invited the E.L. Achieve Elementary Services team to (virtually) work alongside her as she implemented CM in her classroom. The following anecdote shares some of what we learned and saw while working with Jamie.
We joined Jamie as she was preparing to teach "A Reluctant Traveler," a story from the school's literacy program. According to the textbook, the stated standards-based reading comprehension objective was for students to be able to discuss why the main character was reluctant to travel and to explain what he learned through his trip.
Jamie started by doing a text analysis to determine the functional language and vocabulary that would need to be taught in order for students to comprehend the text. Then she created sample responses to clarify her expectation of what students' discussions would sound like. These samples served to guide her instruction and ensure that she was teaching the language students needed to fully discuss the story. She then planned oral language practice routines to incorporate throughout the reading. When students are learning to express their understanding of text, it's important that they have multiple opportunities to practice formulating and articulating their thinking. These oral rehearsals would set up Jamie's students for success as they prepared to show evidence of their comprehension.
As the class began reading, Jamie knew what would be tricky for her students. She had pinpointed phrases like on the other hand and vocabulary words that students might not understand. Explaining the meanings of words, rather than simply defining them, is a strategy used in CM reading lessons. Jamie shared an example: "Reluctant wasn't one of our vocabulary words, but the students needed to know what it meant. When we got to the word, I would explain, 'Reluctant means you don't want to do it. Echo after me.'" Jamie reminded her students that language options aren't finite. She encouraged them to try changing the types of words they used, combining structures, and using conjunctions and synonyms. She recalls, "One of the kids offered the word hesitant as a synonym for reluctant. We celebrated this connection as a class. I show my students that they can play with language."
She used think-alouds to model how she made meaning of the text and planted ideas about how she would express her own comprehension of the text. "The students practiced using the language I knew they would need to provide evidence of their comprehension, and it really helped support them when they had to do it on their own."
By the end of the lesson, students had practiced several different ways to discuss what was going on with the main character. This sentence construction chart is an example:

The students practiced completing their sentences using evidence from the text, which is a major focus of Common Core reading standards.
Jamie built in as many opportunities as possible for students to practice orally, including plenty of interactive activities such as Partner Talk and Talking Stick. The language scaffolds and multiple opportunities to practice provided support for intermediate students. They also challenged advanced students who were comfortable using the language to expand sentences and write more precisely.
Jamie has seen significant progress in her students' reading comprehension. Because of the abundant oral rehearsal and teacher modeling, not only are they more engaged in class, but also they're citing specific details when discussing and writing about text (examples below).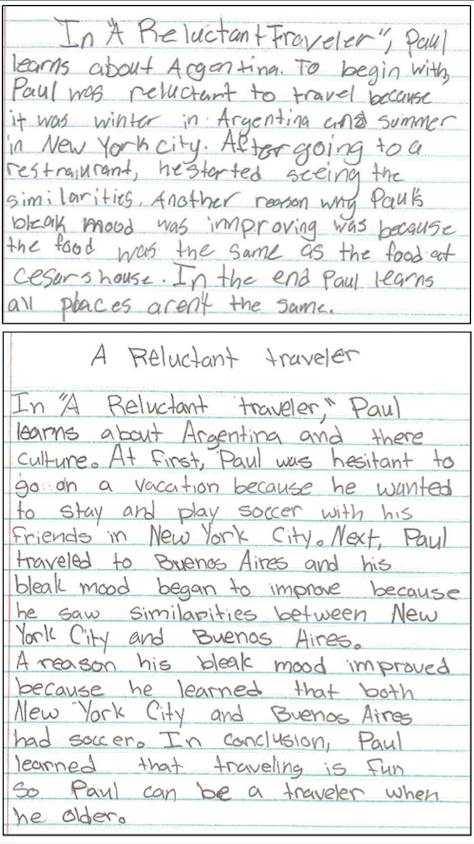 "All of my students have jumped leaps and bounds in their ability to use academic language," Jamie says. "They are comfortable talking about their thinking. It's exciting to see their confidence rise because they now have the language they need to tell what they are thinking. In previous years, we weren't explicitly teaching them the language they needed to know to fully express themselves. We were wondering why they were getting so frustrated all the time. They needed support along the way. With Constructing Meaning, we're able to give them that support."
This blog was previously published with the title, "Explicit Language Instruction: A key to reading comprehension."