What's practice got to do with it?
In this series, we discuss Student Interaction Routines, which are task-based strategies that help ensure each student has abundant strategic practice using new language for meaningful purposes. Developing a robust wheelhouse of interaction routines enhances student engagement and increases productive talk time.
To become confident and agile English language users, English learners need an abundance of oral practice to process new learning, think through their ideas, clarify concepts, and use newly taught academic language to express their understanding.
Unfortunately, research has shown that English learners are often passive classroom observers (Ramirez, 1992; Foster and Ohta, 2005). When they do contribute, their comments are typically limited to brief utterances in response to teacher questions. The teacher asks a question, the student responds with a single word or short phrase, and the teacher moves on to the next student. Lingard, Hayes, and Mills (2003) found that in classrooms with higher numbers of students living in poverty, teachers talk more and students talk less. English language learners in many classrooms are asked easier questions or no questions at all and thus rarely have to talk in the classroom (Guan Eng Ho, 2005).
That leaves little opportunity for English learners to internalize newly taught language and concepts, deepen understanding, express thinking, and grow ideas.
Often the only person practicing academic language is the teacher.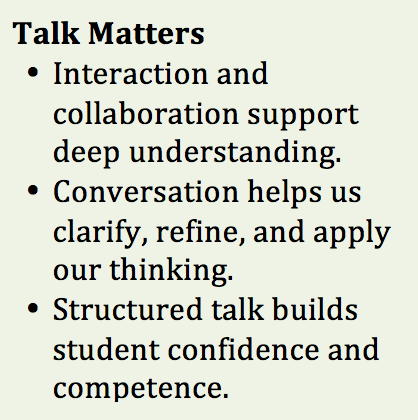 If students are to successfully understand and learn English, they must practice using it. Yet merely having students "turn and talk" or work in small groups is not enough. A defining element of explicit second-language teaching is providing ample, meaningful opportunities for use of newly taught language features with high accountability for application (Norris and Ortega, 2006). Interactive tasks must be carefully structured and must clearly require – rather than merely encourage – students to use specific language correctly. When students are given appropriate direction and support, they actively listen and speak to one another, preventing the one-way communication that occurs when the whole class listens to individual volunteers offer their ideas or respond to teacher questions.
We can ensure students get abundant practice opportunities through daily whole-group (I Do/We Do) and small-group and partner (We Do/You Do) activities using structured Student Interaction Routines.
Structured routines are intentionally incorporated throughout teacher modeling, peer rehearsal, and some assessments. Routines can occur in pairs, in small groups, or during whole-group discussion, but they should be short, focused, and frequent. The emphasis is on developing automatic and fluent accuracy.
We call these task-based student interactive strategies routines because when used on a daily basis, they become routine. Students know what to do and can confidently and efficiently move into a handful of well-established classroom routines. This frees them to focus on the learning at hand.
Structuring interaction makes the teacher's job easier by:
Organizing the class for maximum engagement and accountability. Instead of a few students responding one by one while the rest of the class listens, each student has multiple opportunities to actively listen and discuss the learning.
Multiplying the 'teachers' in the room. Students think together, give each other feedback, and internalize newly learned language patterns and topic-related vocabulary as they deepen their understanding of the content.
Providing the teacher with time to move among students to collect in-the-moment assessment information, monitor accuracy, and provide corrective feedback as needed.
Building student confidence in using English.
References
Foster, P., & Snyder Ohta, A. (2005, September). Negotiation for meaning and peer assistance in second language classrooms. Applied Linguistics 26 (3) (pp. 402-430).
Guan Eng Ho, D. (2005). Why do teachers ask the questions they ask? RELC Journal 36 (pp. 297-310). doi: 10.1177/0033688205060052
Lingard, B., Mills, M., & Hayes, D. (2003). Teachers and productive pedagogies: Contextualising, conceptualising, utilising. Pedagogy, Culture and Society, 11(3) (pp. 399-424).
Norris, J. M., & Ortega, L. (Eds.). (2006). Synthesizing research on language learning and teaching. Philadelphia: John Benjamins.
Ramirez, J. D. (1992). Longitudinal study of structured English immersion strategy, early-exit and late-exit transitional bilingual education programs for language-minority children. Bilingual Research Journal 16.1 (pp. 1-62).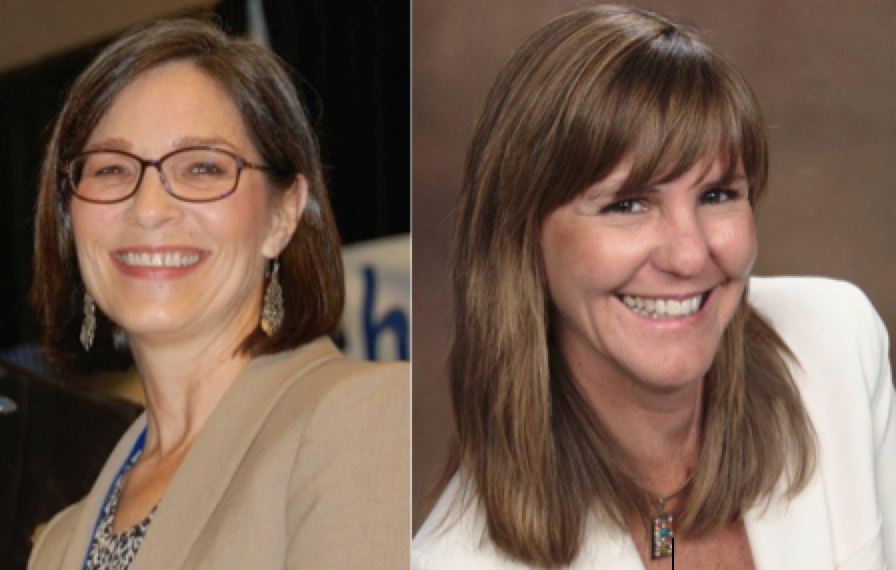 Susana Dutro, Co-founder and CEO
Donna Smith, Director of Research and Communications and District Support Lead
This blog is one in a series on Student Interaction Routines. Read the additional installments:
Growing English Proficiency: Numbered Heads Together
Growing English Proficiency: Talking Stick
Growing English Proficiency: Lines of Communication
Visit the E.L. Achieve blog regularly for details on different structured interaction routines and creative variations you can use with your students.
This blog was previously published with the title, "Blog Series: Empowering students to grow their language – What's Practice Got to Do with It?"