Collaboration has become a buzzword in education. Like many educational innovations, collaboration can be a vague concept that does not conjure up specific practices or actions. Yet when clearly understood and purposefully implemented, collaboration is a powerful aspect of ongoing, site-based professional development. So what are the key components of effective collaboration?
Clear purpose – People understand the reason for each specific meeting, what the outcome will be, and their role and responsibility within the group. Reasons for meeting can include planning for the next week or unit, or even outlining the next semester. The purpose can be analyzing student work for trends that will inform instructional next steps. Or it can be focused on solving a complex problem, such as: What are we doing to serve this particular group of students? Is this the right intervention and how do we know? How can team (or site) assets be leveraged to make the best use of resources for meeting student needs?
Trust – The collaborative team has a safe place for honest conversation to grapple with ideas and share struggles and successes without fear of judgment.
Reflective practices – Successful collaboration rests on a group's investment in continual improvement. This depends on owning our own viewpoints and actions. We use self-reflection – both individual and collective – to assess our success and learning, and to own our role in the outcomes we are getting. When done well, collaboration results in positive forward movement.
One way to lead collaborative meetings while encouraging reflective practice is through the art of questioning. How we frame questions can bolster – or hinder – forward movement. That is, artful questioning leads to constructive reflection on our practice.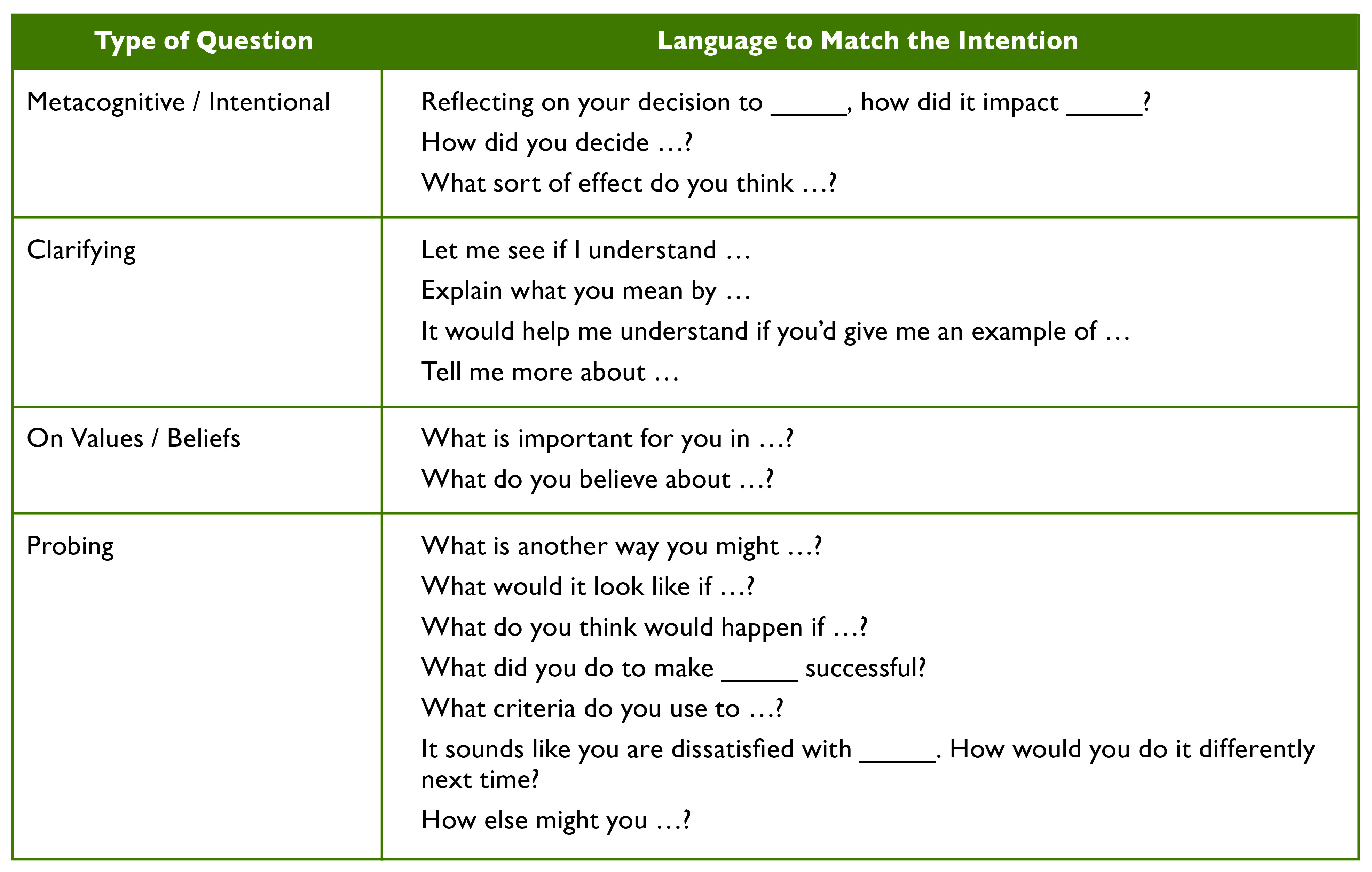 Nuances in the language we choose can inadvertently derail our intention. Notice how the differences in the questions in each column could elicit different responses.
What does artful questioning look like?
Purposes for questions
Some questions dig into the details of classroom or school-wide practices; others build rapport around a common goal, making obvious that we are in this together; others help us clarify an understanding and reduce false assumptions; others encourage a more productive analysis of evidence; and still others help surface beliefs and attitudes that, once exposed, can be examined and adapted.
Types of questions
Frame your question to align to your intended outcome:
• Metacognitive/intentional questions lead us to think deeply
• Clarifying questions get at missing specificity or clear up what the questioner or team doesn't understand
• Questions about values and beliefs ask us to think about our underlying perceptions
• Probing questions push us to think about multiple paths or approaches to address a challenge
Communicating our intention
Do you ever accidentally interrogate when you really mean to invite thinking and spark a robust conversation? As adult learners, we are always developing our own metalinguistic awareness. A hallmark of this awareness is knowing how the words we choose and our tone, facial expression, and body language combine to present our message.
Crafting questions that invite complex thinking and promote reflection is a skill that needs intentional practice. Effective questions help us focus on the thinking that underlies our perceptions, behaviors, and choices.
By being mindful of our purpose for collaboration and improving our artful questioning skills, we build a shared vision, strengthen trust, and increase the likelihood that we will improve our collective instructional practice.
Written by: Debbi Puente and Donna Smith
References:
Aguilar, E. (2013). The Art of Coaching: Effective strategies for school transformation. San Francisco, CA: Jossey-Bass.
Costa, A. L., & Garmston, R. J. (2016). Cognitive Coaching: Developing self-directed leaders and learners. Lanham, MD: Rowman & Littlefield.
Ilgen, D. R., Hollenbeck, J. R., Johnson, M., & Jundt, D. (2005). Teams in organizations: From input-process-output models to IMOI models. Annual Review of Psychology, 56, 517-523.
LaFasto, F., & Larson, C. (2001). When teams work best: 6000 team members and leaders tell what it takes to succeed. Thousand Oaks, CA: SAGE Publications, Inc.
Larson, C., & LaFasto, F. (1989). Teamwork: What must go right/what can go wrong. Newberry Park, CA: SAGE Publications, Inc.
Lencioni, P. (2003). The trouble with teamwork. Leader to Leader, 2003(29), 35-40.
Northouse, P. G. (2010). Leadership: Theory and practice (5th Ed.). Thousand Oaks, CA: SAGE Publications, Inc.
Yukl, G. (2013). Leadership in organizations (8th Ed.). Upper Saddle River, NJ: Pearson.